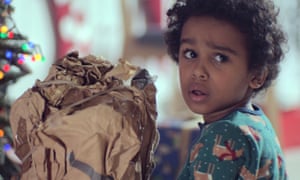 Retailers are rolling back on their traditional Christmas TV ads, with ITV braced for a fall in advertising spending of up to 8% in December.
Shares in the UK's biggest commercial free-to-air broadcaster, which accounts for about half the £4.5bn UK TV ad market, tumbled more than 5% as investors were taken aback by the warning of a bleak Christmas.
ITV said total advertising – including TV ads and sponsorship on ITV, ITV2, ITV3 and ITV4 as well as its online service ITV Hub – was likely to fall by about 3% in the fourth quarter.
The broadcaster said ad income fell by 3% in October but would rise by 2% this month, thanks to advertisers spending big on Black Friday sales. However, there was likely to be a significant fall in spending in December, down by about 6-8%, indicative of the pullback in ad spend on Christmas TV campaigns.
Festive stalwarts including Marks & Spencer and John Lewis are yet to launch their traditionally heartwarming commercials. However, the likes of Aldi, Tesco and Argos have already kicked-off the battle for hearts and wallets this Christmas.
Carolyn McCall, the ITV chief executive, blamed the uncertainty of Brexit for the more conservative approach by advertisers. "We are seeing some softening in [TV advertising] due to the increasingly uncertain economic environment and, as a result, we expect total advertising to be down," she said.
["source=TimeOFIndia"]