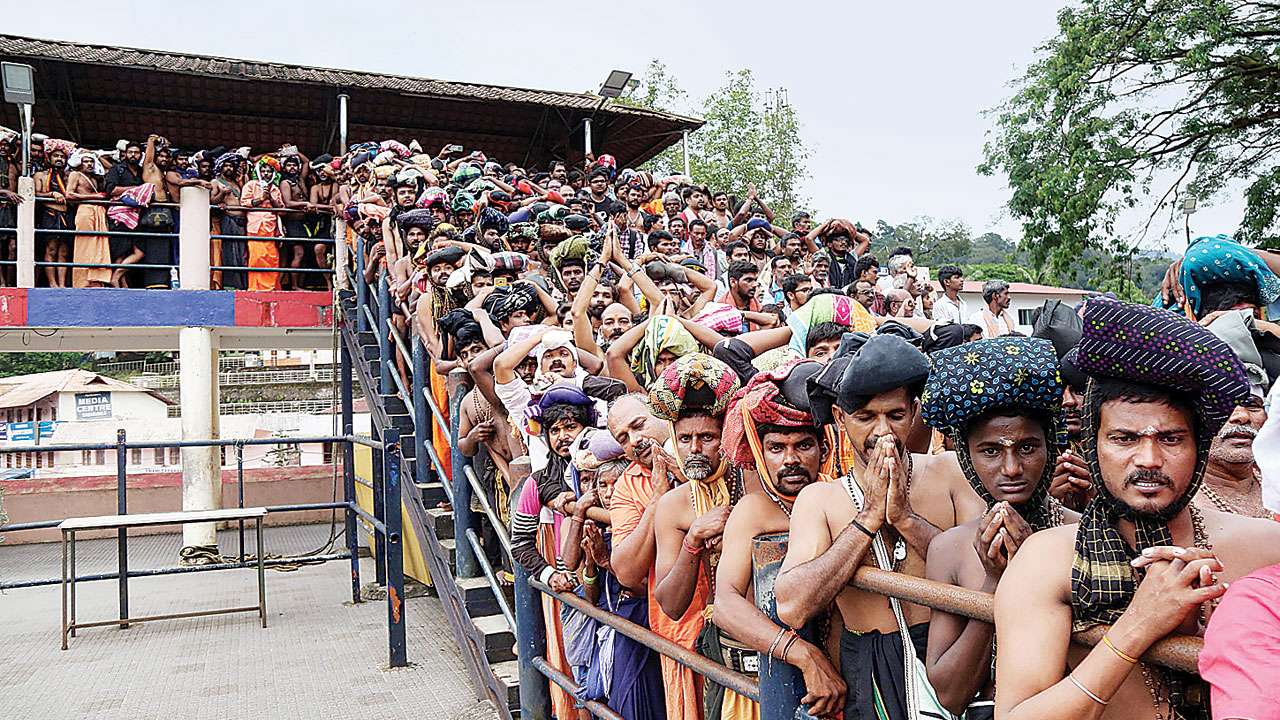 In what is being claimed as a victory by few groups, the Supreme Court on Tuesday agreed to reconsider its September 28 verdict allowing entry of women of all ages to Kerala's Sabarimala temple. The court said it will hear the review petitions in the case on January 22 and there will be no stay of its judgment till such time.
Forty-nine entities, including organisations and individuals, have questioned the verdict on temple entry on the grounds that rationality can't be a yardstick to assess whether a religious practice or belief is integral to the faith of a community or group.
The petitions said the SC ruling had other flaws. The petitioners had appealed for an open court hearing saying that will give their lawyers a chance to put forth their arguments before the judges and even respond to queries. Review petitions, as a norm, do not get listed in open courts and are generally dealt with in chambers by the judges who decided the specific matter.
The Sabarimala verdict by delivered through a 4:1 majority by a Constitutional bench that included former CJI Dipak Misra, Justices RF Nariman, AM Khanwilkar and DY Chandrachud. Justice Indu Malhotra, the lone dissenting judge, found no fault with the practice of the barring entry of women of menstrual age into the temple.
On Tuesday, CJI Ranjan Gogoi replaced his predecessor on the bench while retaining the other four judges who decided the case. "All review petitions along with all pending applications will be heard in open court on January 22, 2019 before the appropriate bench. We make it clear that there is no stay of the judgment and order of this court dated September 28, 2018."
On the fresh petitions challenging the verdict, the SC asked the petitioners to wait till judges decide on the review petitions. "If review petitions are dismissed, your petitions will be taken up. If they are allowed, your petitions will get tagged along," said CJI Gogoi.
All-party meeting called
Hours after the development in the Supreme Court, the Kerala government called for an all-party meeting on November 15 to discuss the issue.
The two-month long annual 'Mandala Makkaravillakku' season will start on November 17 and the meeting will also take stock of the arrangements for devotees.
The temple had witnessed a string of protests from devotees when it opened for monthly pujas for five days in October and two days early this month.
Over 3,700 persons have been arrested so far and 546 cases registered against various people for violence during protests across the state after the top court permitted women of all ages to pray at the Lord Ayyappa temple at Sabarimala.
For centuries, women of menstruating age are barred from entry to shrine
SC on Sept 28 allows all women to enter temple, protests start
Opposers of ruling say rationality can't be applied to assess whether a religious practice is integral to faith of group
I think it is a very good decision. I think Kerala is united on this issue and therefore, I am happy that the Supreme Court has decided to review the entire issue. In democracy, people are paramount.K J Alphons, Union Minister
Review petitions will be heard on 22 January, after the 'Makaravilakku' season ends. The state government will discuss with legal experts and move forwardPinarayi Vijayan, Kerala Chief Minister
The blessings of Lord Ayyappa and prayers of lots of devotees are behind this decision to hear the matter in the open courtKandararu Rajeevaru, Head Priest of Sabarimala shrine
["source=TimeOFIndia"]